Armada is Superior's new custom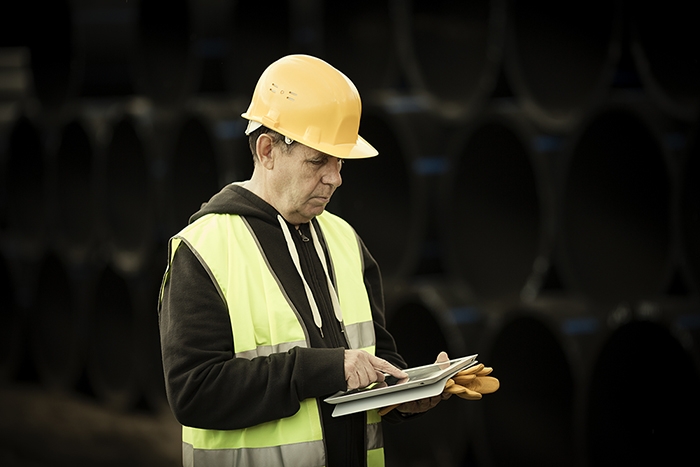 built permitting application for Apple Tablets. It allows real-time synchronization of data between Superior's permitting database (RAPTER) and each Safety Codes Officer's tablet in the field. Permits, Inspections, and Inspection Requests are kept in sync wherever the Safety Codes Officer is. When internet access is not available, the application runs seamlessly, immediately synchronizing the data once a network connection is restored. Armada includes many features to help optimize and organize a Safety Codes Officer's day, including visual notifications of inspection requests, full access to all inspections on a permit, and geo-location of permits to aid in finding a permits location. It may also run on an iPhone, and can be deployed to an iPad remotely, removing the necessity for long turnaround deployments in the case of hardware failure or destruction. The interface has been kept clean and simple to limit data entry errors during inspections.
Data is stored securely using Apple's high security technology which is famously strong enough to keep out even the NSA. Network communications are secured with modern TLS 1.2 encryption, and authenticated using strong, random pairing keys. Safety Codes Officers are required to enter their pass-code or fingerprint to perform an inspection or unlock the application.
Superior's integrated Secure Login allows immediate access to all permit information with appropriate access controls. Data from the app is synchronized immediately to the Secure Login portal. Municipalities can request access to the secure portal to search and view permitting history. The Secure Login also provides a JSON and XML API for municipalities that require data synchronization between Superior and their own infrastructure. The Secure Login portal grants customers direct access to their permit history, including all of their inspections, and allows them to call for a new inspection directly from the web page. Communications are secured using TLS 1.2 encryption, and are protected using an array of security technologies in wide use by the industry.